Are you wondering how to enter the U.S. banking system? Opening a bank account in the United States is essential for entrepreneurs who want to be part of the American economy. Here, we will discuss four keys to keep in mind when opening a U.S. bank account.
In virtual realities with almost no geographical barriers, selling products and services abroad is becoming the norm for competitive companies. Latin entrepreneurs enjoy a geographic advantage due to their proximity to the United States, one of the world's largest economies.
However, entrepreneurs must meet several requirements before expanding their business to the U.S. Luckily, meeting these requirements is now easy. One of these steps is to open an American bank account.
To show you what you need to enter the banking system in the U.S, we will give you the keys you need to complete this process and conquer the American market. Here are four things to consider when opening a bank account in the U.S.: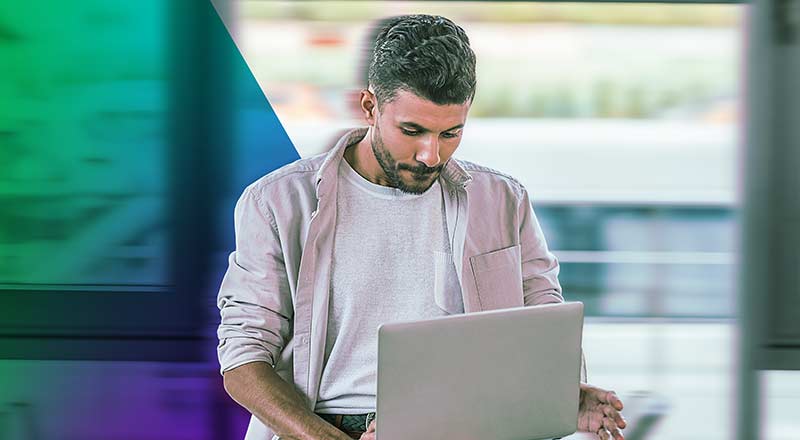 1. Where to open your bank account in the U.S.
One of the first elements to consider when opening a bank account in the U.S. banking system is the type of bank to join.
Your choice will depend on your objective in opening a bank account in the United States. For example, you may only want to open it for personal use, or you may want to open it in the name of your U.S. business to enter the U.S. market.
The most common types of banks in the U.S. are commercial banks and investment banks:
Commercial Banks
This is the most common type of bank in the United States. It works great for individuals who want to open a personal account, as well as for entrepreneurs who wish to open business accounts.
A commercial bank not only allows you to open bank accounts but may also offer insurance services or even mutual fund and retirement management services.
Investment banks
In addition to commercial banks, another type of bank commonly used in the United States is an investment bank. Goldman Sachs or J.P. Morgan are examples of this type of entity. However, consider that investment banks are not as open as commercial banks for one reason: their service. Investment banks focus on giving their clients access to the U.S. and global stock markets to obtain funds for expansion. They also serve as a bridge to facilitate merger and acquisition transactions for corporate clients.
On the other hand, if you do not want to be part of a traditional bank, digital banking and neobanks are a good option for you. In addition, they are gaining more traction worldwide.
According to research conducted by Americas Market Intelligence, digital banking transactions represent more than 50% of the total transactions registered in Latin America. Also, smartphones are the chosen way to make the majority of these transactions (more than 70%).
The adaptation of the Latin market to digital banking and the application of new technologies to its banking activity opens many possibilities for those who wish to explore markets that invest in technology, such as the U.S. market.
2. Paying maintenance fees is a fact of life
According to the Small Business Administration (SBA), one of the most decisive aspects of entering the U.S. banking system is the fees associated with a bank account.
For example, according to the website Statista, in 2020 alone, an investment bank like JP Morgan handled around 9 billion dollars in fees. Hence, it is important not only for investment banks but for any financial institution.
This is why it is necessary not to rush and to carefully study the best option to take care of your investment. According to the SBA, you may want to search for an option that offers you low rates not only for maintenance but also for transaction fees and account balances.
3. What are the requirements to open a bank account?
A third aspect to consider when opening a bank account in the United States is the necessary documentation to be able to open a bank account, whether for personal or business use.
According to the SBA, if you wish to open a bank account for your business in the United States, you must meet specific requirements, such as your company's articles of incorporation, Employer Identification Number (EIN), ownership agreements, and business license.
Also, many traditional banks require documents, such as a Social Security Number (SSN) or Individual Taxpayer Identification Number (ITIN), to open a bank account. In some cases, this opening must be done in person.
Although it is not impossible to have a bank account in the United States, the scrutiny of traditional banking institutions can sometimes slow down the account opening process.
In this sense, the solution is getting closer and is focused on digital banking entities or neobanks, such as Globalfy and other fintech that offer the opportunity to enter the American banking system safely and simply.
4. Globalfy makes it much easier to open a business bank account in the U.S.
Expanding your business to the U.S. market and receiving payments in U.S. dollars is now easy thanks to Globalfy! Conceived as a U.S. neobank for foreign entrepreneurs, Globalfy opens the doors to the banking system and the American market from wherever you are.
Meeting countless requirements and being at the mercy of each bank branch's selection criteria is a thing of the past. With Globalfy, all you need is three things:
1. A U.S. registered company (EIN)
2. A U.S. address
3. A valid passport
These three things and an internet connection are enough to open an account from wherever you are! In addition, there are no monthly maintenance fees and no minimum opening amount.
Your opportunity to expand with Globalfy is here
Opening a bank account in the United States is just one of the steps to becoming an international company on U.S. territory. Globalfy is your one-click solution to make this happen in a fast, simple, and remote way.
Having a business in the American market is not only possible but simpler than ever. Contact our team of specialists and discover for yourself how to expand your business to America and beyond!