The United States has been the top destination for international investors and entrepreneurs for years now. The North American country has the largest foreign direct investment rate in the world given its business flexibility, financial system, and foreign-friendly institutional policies. Keep on reading and see how setting up a business in the USA from the UK is easier than you might've thought.
British business founders are always seeking to cross over beyond Europe and reach the global market. And the United States is just the perfect place to grow and get more and better deals. Let's see how you can achieve that 100% online.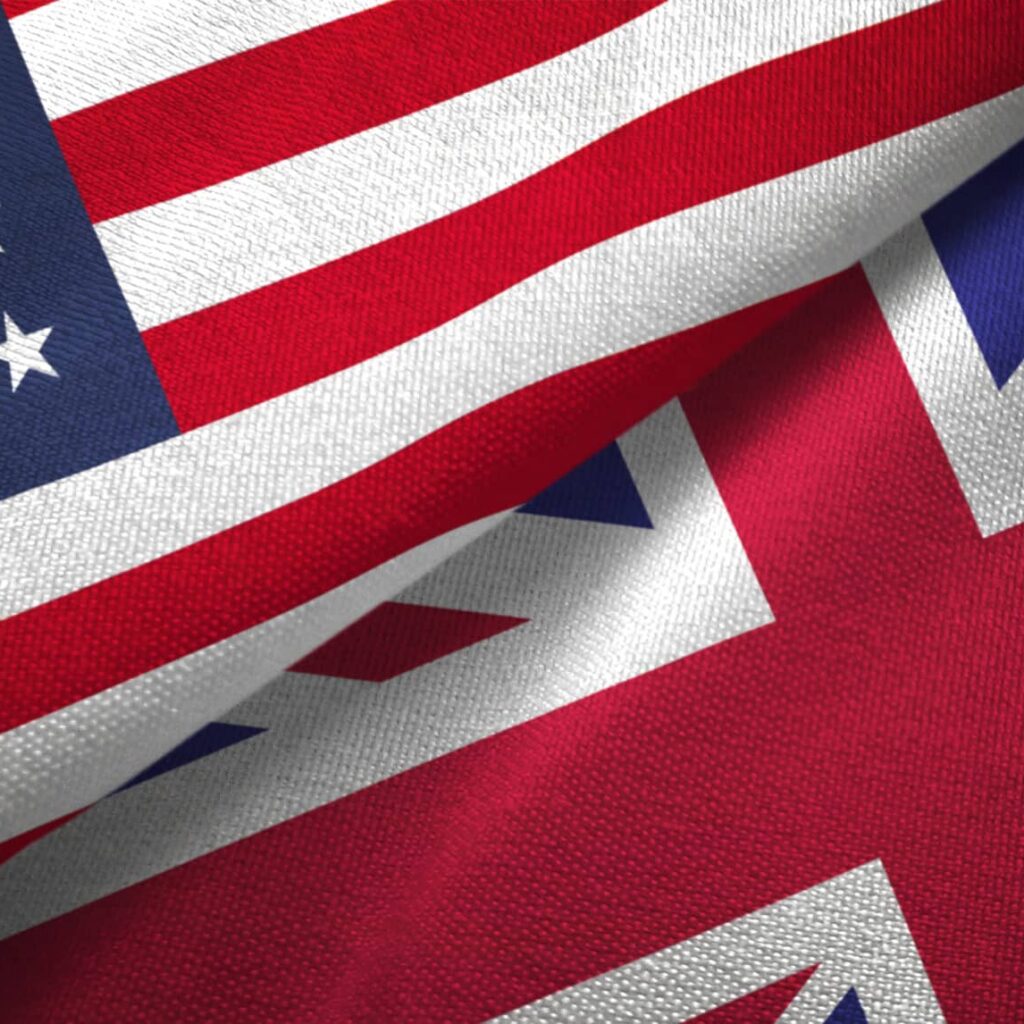 Why set up a business in the USA from the UK?
British service businesses such as IT or marketing have a unique opportunity to thrive by expanding to America. States such as Wyoming and Delaware are the perfect places for offshore business formation, with almost zero taxes and foreign-friendly regulations.
Along the same line, the American tech industry owns a third of the global share of the sector and it's projected to grow even more in the coming years. You can set up your own company in the USA, 100% remotely, and participate in the world's biggest market.
For e-commerce and online product sale, America is also projected to remain at the forefront of the market. Domestic online sales surpassed the trillion dollar mark in 2022 in the USA, making it the largest marketplace by far.
What are the differences and similarities between businesses in the USA and Britain?
Setting up a business in the USA from the UK not only involves more opportunities and a different tax system, but it also means dealing with different types of company setups. In America, you can have a sole proprietorship or a partnership but the main structures are Corporations and Limited Liability Companies (LLCs).
Corporations
Corporations are similar to UK public companies limited by shares in the sense that they issue stock that can be traded in public exchanges to raise capital. C Corps are the type of Corporation available for British and other foreign entrepreneurs. Contrary to S Corps and LLCs, they are subject to corporate income tax at both federal and state levels.
Since both, the company's and the shareholders' profits are taxed, this condition is known as double taxation and it can be a major drawback for British entrepreneurs trying to grow in the USA.
Although to counter this disadvantage, with C Corps, there's the unique possibility to participate in the stock market and raise capital in a much more secure and efficient way.
LLCs
American Limited Liability Companies (LLCs) can be likened to British and Australian public (or private) companies limited by guarantee. They do not have shareholders but members whose control of the business depends on their initial investment or equity.
In the States, LLCs are not subject to double taxation for which they are known as pass-through entities. Profits pass directly to the members without corporate-level levies. In some states, such as Wyoming, Texas, Delaware, and Florida, British and foreign digital entrepreneurs can enjoy a zero rate for individual income taxes as well.
Meanwhile, New Mexico and Delaware are able to offer total anonymity for LLCs, while in other jurisdictions business records are public.
What do you need to set up a business in the USA from the UK?
Elements you need to take into account when setting up a business in the USA from the UK or any other country.
Registered Agent
Getting a Registered Agent is vital to set up and run a business in the States. It can either be a natural person or an agency and its main purpose is to keep you informed of your company's status with the state. A Registered Agent is the main point of contact between your business and the government and it's mandatory for you to get one.
With Globalfy's all-in-one business formation, you will not have to worry about getting an American Registered Agent for your company, it's all included and free of charge for the first year (Registered Agent files must be renewed with the state annually).
EIN
The employer identification number (EIN) is issued by the IRS, the federal institution that governs taxes in the USA. You need to get an EIN to be able to hire personnel, open a bank account, pay taxes, be compliant with state and federal laws and authorities, and to carry out business in general.
To apply for the EIN you can either fill out and submit Form SS-4 to the IRS via mail; other options are fax, phone, or through the IRS website. Nevertheless, if you set up your business in the USA with Globalfy, we will take care of the entire EIN process for you.
Business formation
You'll need to submit either the Articles of Organization (for an LLC) or the Articles of Incorporation (for a Corp) with the state you choose to register your company in.
This document includes basic information about you and your business, the processing time frames and fees vary depending on the state.
Delaware, for example, registers LLCs for $125 and Corps for $70. It also offers total privacy and anonymity for LLC members and doesn't levy individual income taxes for out-of-state residents.
On the other hand, the business formation fees in New Mexico are $50 for LLCs and $100 for Corps, while its individual state income tax sits between 1.7% and 5.9%. Not a zero rate like in Delaware or Texas but still pretty low in comparison to other US states.
Take a look at the best places to set up your business in the USA from the UK.
| | | | | | |
| --- | --- | --- | --- | --- | --- |
| | Florida | Delaware | Texas | New Mexico | Wyoming |
| LLC formation fee | US$125 | US$90 | US$300 | US$50 | US$100 |
| C Corp formation fee | US$70 | US$89 | US$300 | US$100 | US$100 |
| Individual state income tax | None | None for out-of-state residents | None | Between 1.7% and 5.9%. Higher rates apply starting at US$210,000 in annual income | None |
| Corporate state income tax (C Corporations only) | 4.5% for those who make more than US$50,000 in annual income | 8.7% | None | 4.8% | None |
| Annual report or franchise tax | Between $138.75 and $150 | Minimum of $225 | None | None | Minimum of US$62. Additional fees from US$250,000 in assets |
| Sales tax | Between 3% and 6% | None | 6.25% | 5.125% | 4% |
| Privacy | No anonymity. All business records are public | LLCs can be anonymous | No anonymity. All business records are public | LLCs can be anonymous | LLCs can be anonymous |
| Globalfy's Business formation all-in-one plan cost | US$599 + state formation fee | US$599 + state formation fee | US$599 + state formation fee | US$599 + state formation fee | US$599 + state formation fee |
American business bank account
A bank account for your American business is vital for you to be able to integrate your finances with tax and bookkeeping reporting systems in the States.
It will also be crucial for you to get access to more providers and customers, not only in America but worldwide.
Globalfy's all-in-one business plan includes an American bank account for your LLC or Corporation, free of charge, and with no maintenance or domestic transfer fees. With this, you're going to be able to separate your personal finances from your company's, strengthening the corporate veil and protecting even more your own assets while doing business.
Set up an American company from the United Kingdom online
Most states provide better support and faster processing for business applications online than on-sight. After opening the company, you can even run your entire operation while still being based in the UK or any other country.
Consult Globalfy's business plan and set up your own American LLC or Corp. We'll do the heavy lifting for you while you focus on growing your business. Just fill out a 5-minute form and we take care of the registration process, the EIN, the Registered Agent, your virtual address in the USA, and even your brand-new business bank account. Start now and get your services and products to the global market through your own American entity.